We Breed for a Total Package
Brave words, but what do they mean?

Brains; The German Shepherd Dog should be able to think.

Beauty; The German Shepherd Dog should conform to the standard.

Movement; The German Shepherd should have a free gait. THis is a movement breed, and movement is detailed in the standard.

Temperament; The German Shepherd should be fearless and confident, willing to serve.

Health; The German Shepherd should be in good health.

Ability to work; The Shepherd's conformation and Temperament should make him the most versatile of all dogs. They must be willing and capable of work as well as a devoted companion.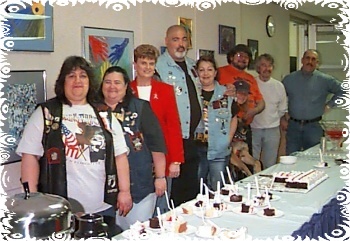 Vanessa and Volunteers of Rolling Thunder at the VA
This Site has Been Copyrighted by SpiderWoman © Copyright © 2014, Last Updated - 1/16/2014 06:41:51 AM All rights reserved. No part of these pages may be reproduced or copied without express written permission of the author. Copying any material or photographs for personal, commercial, internet or other use or publication anywhere else is specifically prohibited. Permission to quote one or two sentences for purposes of review is granted where full credits and URL are cited and notification of same given to the webmaster.
VISIT OUR SYMMETRY FINANCIAL WEBSITE:

Click Here

War Dog Painting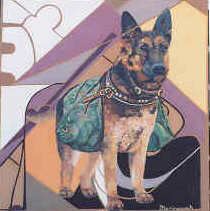 A local PA artist, Miriam Landes